Don't Blame Romney for Ballot Trouble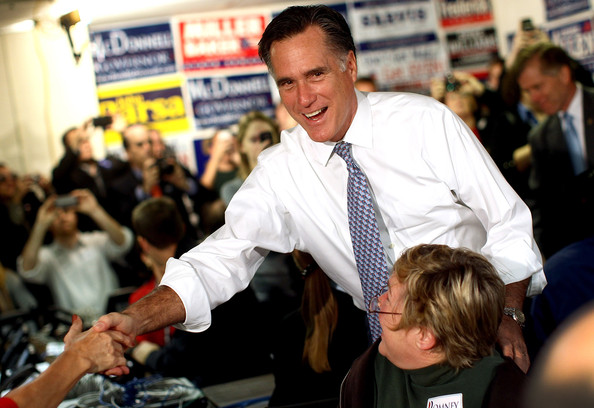 The Republican Party of Virginia is on the verge of the appearance of a significant scandal. Allegations, fueled by a post by Richard Winger at Ballot Access News, are swirling, suggesting that the Virginia GOP changed the rules for the validation of signatures in October 2011:
But what has not been reported is that in the only other presidential primaries in which Virginia required 10,000 signatures (2000, 2004, and 2008) the signatures were not checked. Any candidate who submitted at least 10,000 raw signatures was put on the ballot. In 2000, five Republicans qualified: George Bush, John McCain, Alan Keyes, Gary Bauer, and Steve Forbes. In 2004 there was no Republican primary in Virginia. In 2008, seven Republicans qualified: John McCain, Mike Huckabee, Mitt Romney, Ron Paul, Rudy Giuliani, Fred Thompson, and Alan Keyes [Not actually on the 2008 ballot--FB].

The only reason the Virginia Republican Party checked the signatures for validity for the current primary is that in October 2011, an independent candidate for the legislature, Michael Osborne, sued the Virginia Republican Party because it did not check petitions for its own members, when they submitted primary petitions. Osborne had no trouble getting the needed 125 valid signatures for his own independent candidacy, but he charged that his Republican opponent's primary petition had never been checked, and that if it had been, that opponent would not have qualified. The lawsuit, Osborne v Boyles, cl 11-520-00, was filed in Bristol County Circuit Court. It was filed too late to be heard before the election, but is still pending. The effect of the lawsuit was to persuade the Republican Party to start checking petitions. If the Republican Party had not changed that policy, Newt Gingrich and Rick Perry would be on the 2012 ballot.
Obviously, sudden changes in standards for petitions to get on the ballot can raise a lot of questions.
However, in the 2008 presidential cycle, none other than Erick Erickson was actually complaining about the GOP checking the signatures on the petitions of presidential candidates:
Romney, Fred, Rudy, McCain, Huckabee, and Paul all filed over 15,000 signatures each - well above the recommended minimums.

So what did the Virginia GOP do? Well, they did absolutely nothing to help any of the candidates other than put out clipboards at their state fair booth.

Then they decided to attempt some kind of unprecedented "verification" process. Historically, forms have never been checked by either party, often they never even open the boxes. They gave no one notice of this new process. They sent all the campaigns an email notice the Friday afternoon after they'd all filed their signatures. You can see the memo below. As you can see its a ridiculous attempt to replicate Florida in 2000.

At the time, no one had any idea who the "verifiers" would be or who they supported. Likewise, everyone had questions on what did and did not constitute legitimate signatures. All the campaigns had to lawyer up against their own party. The Executive Director of the Virginia GOP had the nerve to pace the room, during the verification process, in a referee jersey. Likewise, the process for verification changed throughout the day, despite the party sending out its guidelines ahead of time in writing.
So there may have been some verification in the 2008 cycle after all.
Moreover, Richard Winger, in an email to me, admits that the signatures were put through some verification process in 2007. The 2007 checking was "to see how many signatures there were from each U.S. House district, and also how many there were statewide." Winger also believes that the signatures were checked to see if they were notarized (a key requirement for Virginia). He says that signatures were not cross-checked with voter registration forms to ensure that petition signers actually lived in their stated addresses. (I have reached out to VA GOP officials involved in the 2007 count but have not yet heard back from any.)
So there are a few outstanding facts here:
You need 10,000 verified signatures (with at least 400 signatures from each Congressional District) in order to get on the Virginia Republican primary ballot. These signatures must be notarized. This requirement has been in place for over a decade.
In 2007, most of the major GOP candidates submitted over 15,000 signatures and were on the ballot.
In 2011, Mitt Romney submitted more than 15,000 signatures and is on the ballot.
Ron Paul submitted around 15,000 signatures and is on the ballot.
Newt Gingrich and Rick Perry submitted under 12,000 signatures each (fewer than the major candidates of 2008), but were disqualified.
On the last point, the main question is why?
This is where the Republican Party of Virginia can come in and save its reputation.
If Gingrich or Perry were disqualified because they did not get 400 signatures from each Congressional District, it would seem as though the enforcement regime has not materially changed in the past few months (since the same standard was used in 2008).
If Gingrich or Perry were disqualified because enough signatures were not notarized, it would seem as though the enforcement regime has not materially changed in the past few months (since the same standard was used in 2008).
Under either circumstance, there would seem insufficient evidence to claim that any "dirty tricks" occurred.
However, there are plenty of permutations under which "dirty tricks" could have occurred. Only further information can help us sort this out.
Unless there is some legal limitation, it is imperative for the Virginia GOP to make clear exactly why Gingrich and Perry were disqualified. If it can be clearly established that Gingrich's and Perry's campaigns did not follow long-standing rules, then it seems hard (if not impossible) to claim a pro-Romney conspiracy. It seems clear the Gingrich campaign was not particularly familiar with the rules of the Virginia primary, as Gingrich's declaration that he would run as a write-in demonstrates; write-in candidacies are not allowed in the Virginia GOP primary. Moreover, I have seen a few reports suggesting that some of Perry's signatures were not properly notarized. So it's possible that they ran afoul of the rules due not to a sinister conspiracy but due to sloppiness. But I don't know, and neither do those alleging a conspiracy.
Instead of rumors, we need facts. Instead of spin, we need information.
(NB: None of this is an endorsement of the rules Virginia puts in place for getting on the primary ballot. Also, all this is very contingent on information as it comes in.)
(There is an electoral side to this as well. One might tip one's hat at the success of the Perrysphere and Gingrichsphere in shifting the conversation away from the fact that neither campaign could manage to get enough signatures in a significant Super Tuesday state to avoid this debacle---that Fred Thompson's campaign (an operation not noted for its efficiency) outmatched both Gingrich's and Perry's teams. Instead of a narrative of organizational incompetence, they have put forward one of conspiratorial victimization. Whether or not the Virginia GOP is engaged in "dirty tricks," it's quite clear that Barack Obama's team in 2012 will pull no procedural punches. A Republican candidate ill-equipped to fight back on the procedural level is not very likely to sit in the Oval Office.)
Originally Posted at A Certain Enthusiasm.