Ron Paul's Personal Responsibility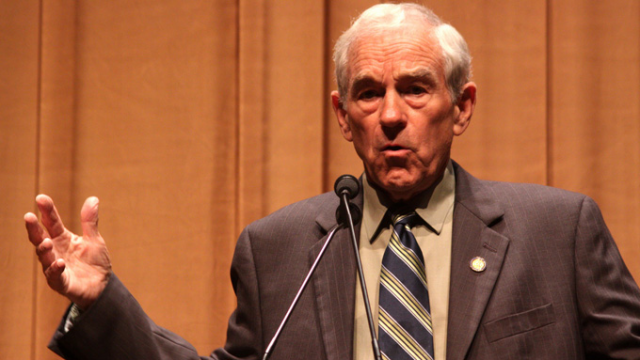 Andrew Sullivan complained yesterday that I had engaged in a "McCarthyite" attack on Ron Paul by writing the following:
A politician isn't answerable for the antics of every one of his supporters. But there's surely a reason, isn't there, that racists, anti-Semites, 9/11 Truthers, and Holocaust deniers are so strongly attracted to the Paul campaign. They hear something. They continue to hear it too, no matter how firmly Ron Paul's more mainstream supporters clamp their hands over their own ears.
Andrew's riposte:
Notice how pure the smear is, enabled and not diminished by the first sentence. Notice the key concept of Beltway ideological policemen: there is a mainstream and a non-mainstream. Dabble with the latter at your peril. Since David has perished by the cult of the "mainstream", it's odd he should deploy it against others. But to throw in "Holocaust denial" and 9/11 Truthers for good measure! Really.

And notice how particularly cheap and easy it is to use such tactics against a libertarian. The traditional left is often based on collective associations, building a movement out of oppressed groups and their grievances, whether it be class or race or even sexual orientation. Libertarianism is the opposite. It's about disassociating. When you listen to Paul saying he will not turn anyone away from supporting his platform regardless of their motives or beliefs, you are hearing a reflection of his libertarianism, not his bigotry. He will accept support from any quarter and compared with the corporate money flowing into the other candidates' coffers, he is about as independent as a presidential candidate can be. Because he is a radical individualist, he doesn't even understand why he should somehow explain the belief of others, or justify their support. You should ask them, not him.

This kind of gotcha-association game is particularly easy because libertarians favor liberty above all, and that will necessarily mean liberty for bigots as well as others. A principled belief in states' rights will doubtless lead to more racist and homophobic policies in many states - but also, of course, more enlightened and successful inclusive states like Oregon or New York or Massachusetts or California. A rejection of statism might lead to more discrimination in the private sector. But it doesn't mandate it. And it need not encourage it. A non-interventionist foreign policy will allow evil to triumph elsewhere in the world, because it believes it's none of our business or too riddled with unintended consequences to try extirpating. That may be right or wrong, but it is not an approval of the evil of Assad or Ahmedinejad or the North Korean junta. And again, it is actually much deeper an American tradition than permanent warfare. But if you can trot out David Duke or Ayatollah Khamenei as potential Paul supporters, you have a very easy, cheap and essentially McCarthyite target. It saddens me that this kind of tactic works.

I still believe that the newsletters, because they were in Paul's name, require a clearer explanation from Paul than the muddled ones he has given. He should not be left off the hook. And his proposals deserve a thorough vetting and discussion.

But there is something awry when a candidate is assessed not on his arguments and proposals but on the shadiness and ugliness of some of his fringe supporters.
Ron Paul's supporters ask that their candidate not be judged by his associates. Or by the people he chose to employ. Or by the newsletters he published. Or by the book he wrote. Or by the way he earned the largest part of his living when out of office in the 1990s. Or by his purchase of the mailing list of the Holocaust-denying Liberty Lobby. Or by the radio shows he chooses to appear on. Or by his strategic decision to reach out to racist voters. Or by the conspiracy theories to which he lends credence, from government creation of AIDS to Israeli culpability for the 1993 bombing to a putative 9/11 "coverup."
And here I thought that libertarianism was a doctrine of personal responsibility?
May Ron Paul at least be judged by the words he has spoken with his own mouth within the current campaign? The supporters say "no" again. When Ron Paul tells an interviewer that the Civil Rights Act of 1964 made race relations "worse," we're not supposed to consider what he might mean by "better." When Ron Paul warns that a border fence would be used to prevent fleeing American citizens from exiting the country, we're not supposed to conclude that he's a paranoid crank.
Andrew deploys what might be called the ontological defense of Ron Paul, as follows:
1) Ron Paul is a libertarian.
2) Libertarians espouse individualism.
3) Racism is a form of anti-individualism.
4) Therefore Ron Paul cannot be a racist.
That is a demonstration of what might be called the deductive method of reasoning. But there's another way to study reality: induction.
Like this:
1) Ron Paul has again and again exploited bigotry, paranoia, and hate as fundraising devices.
2) Ron Paul is a libertarian.
3) So yes, I guess it is possible for a libertarian to do that.
Here's my question for Ron Paul supporters: why the denial of the undeniable?
Perhaps you like Paul's message of legalized marijuana? Why not just say so? You don't think it's important to stop Iran from gaining nuclear weapons? Argue it forthrightly. If you regard Social Security and Medicare as literally the moral equivalents of slavery, go ahead, make your case.
But all this excuse-making, special pleading and jiggering of the rules of evidence so as to exculpate Ron Paul from the record of his whole political life? For what?