What Friends of Israel Face in Britain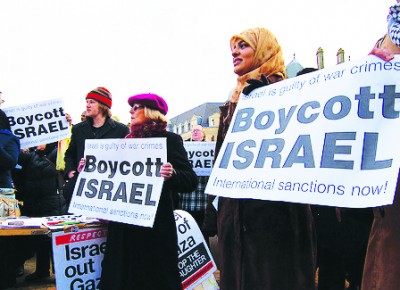 As an example of the attitudes my friends at the Anglo-Israel Association bump up against in contemporary Britain, there's this:
A Labour MP has caused outrage by suggesting that Britain's first Jewish ambassador to Israel has divided loyalties because he has "proclaimed himself to be a Zionist".

Challenged by the JC to clarify his comments about Matthew Gould, who took up the post last year, Paul Flynn, the Labour MP for Newport West, said ambassadors to Israel had not previously been Jewish "to avoid the accusation that they have gone native".

Britain needed, he said, "someone with roots in the UK [who] can't be accused of having Jewish loyalty".
Paul Flynn has not hitherto been known (I'm told) for this kind of derogatory comment. But he's tapped a rich vein:
[Flynn] said doubts had been raised about Mr Gould's loyalty by two of his constituents, Pippa Bartolotti and Joyce Giblin, who had been held in prison in Israel after taking part in the "flytilla" demonstration against the Gaza blockade in July.

"When they were briefly imprisoned in Israel, they met the ambassador, and they strongly believe… that he was serving the interest of the Israeli government, and not the interests of two British citizens," he told the committee.

Ms Bartolotti is the deputy leader of the Green Party in Wales and stood against Mr Flynn at the last election.

...

Mr Flynn added that the same question of divided loyalty would apply to anyone with a "foreign" family background, including former Foreign Office Minister Denis MacShane, whose father was Polish.