Tucker and Grover End Bitter Feud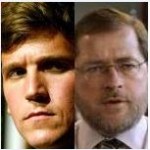 Tucker Carlson and Grover Norquist's co-hosting of the RNC chair debate Monday may signal the end of a legendary long-time feud.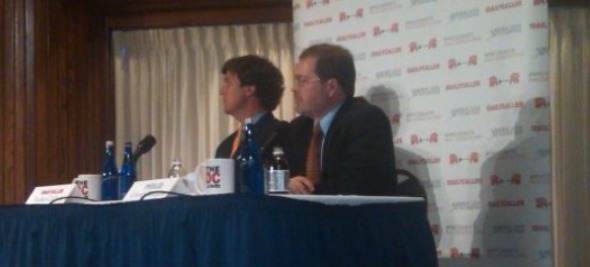 Many years ago, Tucker Carlson "accidentally" poured a Bloody Mary onto Grover Norquist's head from above him on a raised platform. This Monday, in what might have been the settling of a legendary long-time feud, Carlson and Norquist sat together on the same platform as co-hosts of the RNC candidates debate.
Indeed, the RNC candidates debate sponsored yesterday by Americans for Tax Reform and the Daily Caller Monday may have represented far more than just the coming together of potential RNC chairs – it may have signaled the ending of long-term enmity between two conservative D.C. heavyweights known almost universally by their first names: a tribute to their outsized celebrity and chummy personalities.
"I like Grover. I was happy to do the debate with him," Tucker Carlson told FrumForum on Monday. When asked if they had put former ill will behind them, he said, "Of course! I wouldn't have been sitting next to him if I hadn't done that. I guess it is kind of self-evident, right?"
The now settled feud between Grover Norquist and Tucker Carlson was one of Washington's most spectacular and prolonged.
In 1997, Carlson penned a New Republic story that started it all. Slate described it then as an article which "portrays Norquist as a buffoonish commissar who has misplaced his principles to the extent of accepting money to lobby on behalf of the Marxist government of the Seychelles."
In retaliation, Norquist said that Carlson had "damaged his journalistic integrity" and pointed out that Carlson's father had previously been lobbied by Norquist as the Seychelles ambassador, something that Carlson had failed to note in his article.
Further, Norquist then allegedly tried to convince Rupert Murdoch to stop supporting the Weekly Standard, for which Carlson was a Staff Writer. According to an American Politics Journal article, Norquist may have even gone so far as to get Newt Gingrich involved:
In one version of this story, conservative David Brock claims he heard from Carlson that Newt Gingrich got directly involved and Carlson's job was on the line. Norquist denied putting on the pressure but told others he did call Eric Breindel, a top Murdoch aide, to complain about alleged inaccuracies in Carlson's piece.
Carlson retaliated. In a later Slate article, Carlson called Norquist a "mean-spirited, humorless, dishonest little creep," and said that Norquist was "an embarrassing anomaly [in the conservative movement], the leering, drunken uncle everyone else wishes would stay home."
This culminated in the legendary drink-in-face evening, on which Tucker "accidentally" poured a Bloody Mary onto Grover's head. "The celery stuck behind Grover's ear, making him look like a conservative Carmen Miranda," said one valiant source, according to the New York Post. Audrey Mullen, a colleague of Norquist's, retaliated by tracking Carlson down and throwing a full glass of wine in his face.
This feud had legs and longevity. As recently as 2008, Tucker told The Hill that Norquist was "just a finger-sniffer. I'm not sure what that means, but it sounds sort of repulsive."
Nowadays, however, Carlson is singing a different tune. "I'm not mad at Grover about anything and I can't imagine he's mad at me about anything. They were doing the debate, and we just wound up co-sponsoring it, and I'm glad we did," said Carlson.
The Daily Caller announced their co-sponsorship of the debate on December 13th, which was originally announced by Americans for Tax Reform in November. Neither Grover Norquist nor his spokesperson at Americans for Tax Reform responded to a request for comment.
Add Tim on twitter: www.twitter.com/timkmak
Tweet