The Real Ron Paul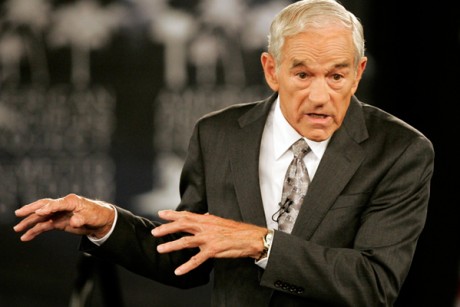 Ron Paul's former senior aid, Eric Dondero, has gone to RightWingNews.com and written a damning indictment of his former boss. The essay shows that Ron Paul is beholden to terrible conspiracy theories and has many questionable personal beliefs. While he is supposedly not homophobic, he reportedly would not shake the hands of a gay supporter.
Dondero also claims that Ron Paul is not anti-semitic, but that he does want to see Israel abolished and does not believe that "saving the Jews" was a good reason to fight against Hitler.
Here are a selection of some of the most incendiary revelations:
Is Ron Paul an Anti-Semite? Absolutely No. As a Jew, (half on my mother's side), I can categorically say that I never heard anything out of his mouth, in hundreds of speeches I listened too over the years, or in my personal presence that could be called, "Anti-Semite." No slurs. No derogatory remarks.

He is however, most certainly Anti-Israel, and Anti-Israeli in general. He wishes the Israeli state did not exist at all. He expressed this to me numerous times in our private conversations. His view is that Israel is more trouble than it is worth, specifically to the America taxpayer. He sides with the Palestinians, and supports their calls for the abolishment of the Jewish state, and the return of Israel, all of it, to the Arabs.
...
In 1988, Ron had a hardcore Libertarian supporter, Jim Peron, Owner of Laissez Faire Books in San Francisco. Jim set up a magnificent 3-day campaign swing for us in the SF Bay Area. Jim was what you would call very openly Gay. But Ron thought the world of him. For 3 days we had a great time trouncing from one campaign event to another with Jim's Gay lover. The atmosphere was simply jovial between the four of us. (As an aside we also met former Cong. Pete McCloskey during this campaign trip.) We used Jim's home/office as a "base." Ron pulled me aside the first time we went there, and specifically instructed me to find an excuse to excuse him to a local fast food restaurant so that he could use the bathroom. He told me very clearly, that although he liked Jim, he did not wish to use his bathroom facilities. I chided him a bit, but he sternly reacted, as he often did to me, Eric, just do what I say. Perhaps "sternly" is an understatement. Ron looked at me directly, and with a very angry look in his eye, and shouted under his breath: "Just do what I say NOW."
...
The second incident involved one or two other staffers many years later at the BBQ in Surfside Beach. I was not in direct presence of the incident. But another top staffer, and I believe one of our secretaries, was witnessed to it. This top staffer adores Ron, but was extremely insulted by his behavior, I would even say flabbergasted to the point of considering resigning from his staff over it.

"Bobby," a well-known and rather flamboyant and well-liked gay man in Freeport came to the BBQ. Let me stress Ron likes Bobby personally, and Bobby was a hardcore campaign supporter. But after his speech, at the Surfside pavilion Bobby came up to Ron with his hand extended, and according to my fellow staffer, Ron literally swatted his hand away.

Again, let me stress. I would not categorize that as "homo-phobic," but rather just unsettled by being around gays personally. Ron, like many folks his age, very much supports toleration, but chooses not to be around gays on a personal level. It's a personal choice. And though, it may seem offensive to some, he has every right in my mind to feel and act that way.
...
Ron Paul is most assuredly an isolationist. He denies this charge vociferously. But I can tell you straight out, I had countless arguments/discussions with him over his personal views. For example, he strenuously does not believe the United States had any business getting involved in fighting Hitler in WWII. He expressed to me countless times, that "saving the Jews," was absolutely none of our business. When pressed, he often times brings up conspiracy theories like FDR knew about the attacks of Pearl Harbor weeks before hand, or that WWII was just "blowback," for Woodrow Wilson's foreign policy errors, and such.

I would challenge him, like for example, what about the instances of German U-boats attacking U.S. ships, or even landing on the coast of North Carolina or Long Island, NY. He'd finally concede that that and only that was reason enough to counter-attack against the Nazis, not any humanitarian causes like preventing the Holocaust.
...
He did not want to vote for the resolution [The Afghan War Resolution]. He immediately stated to us staffers, me in particular, that Bush/Cheney were going to use the attacks as a precursor for "invading" Iraq. He engaged in conspiracy theories including perhaps the attacks were coordinated with the CIA, and that the Bush administration might have known about the attacks ahead of time. He expressed no sympathies whatsoever for those who died on 9/11, and pretty much forbade us staffers from engaging in any sort of memorial expressions, or openly asserting pro-military statements in support of the Bush administration.
Some Ron Paul enthusiasts have condemned Eric Dondero as a dubious character. Perhaps. But then, candidates of dubious character attract supporters of dubious character.