No Benefits for You!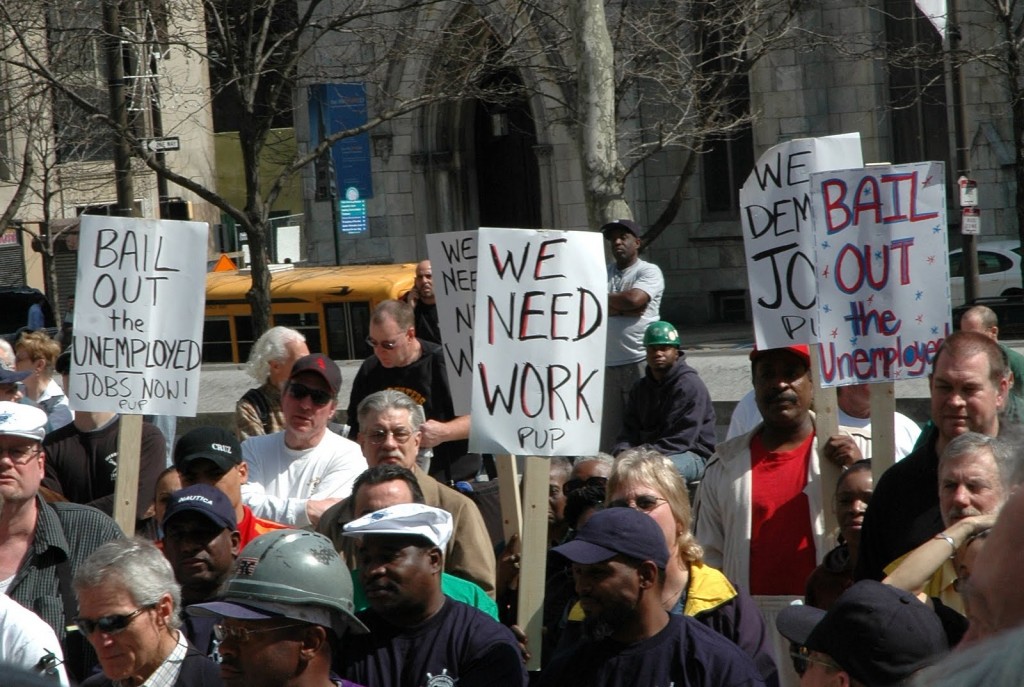 'Galatea' is a columnist writing about her experience looking for work after her recent downsizing. Previous entries in her series can be strong>read here<.
"You're gonna hate this idea, Gala, but you should definitely file for unemployment."
No. NO. DOES NOT COMPUTE. THIS IS A CLASS THREE VIOLATION OF YOUR STAUNCH LIBERTARIAN PRINCIPLES.
"Are you sure, Chris?" I asked, bewildered.
An old boss, Chris had decades of experience over me and had seen his fair share of firings. "Listen. The first thing that one of my mentors told me when I lost my first job is to file for unemployment. It's not much, but it's something to help you out."
"I'm sure it's something, but…you're telling me to file for unemployment and this is weird."
"Eh. I'm a moderate conservative. Besides…" Chris smirked and tapped his cigar out. "I always get a new job."
Of course you can, I thought huffily. You have enough experience to make six figures.
I nervously crunched an ice cube between my molars. Any second now, the Libertarian Police would burst through the wall of the hotel bar and cart me off to the Panopticon for welfare thoughtcrime. And besides, wasn't I better than relying on the government when I had my own bootstraps to pull me up? American self-reliance and pluck and whatnot?
Come on, Gala, I harangued myself, stick with your principles! Who cares if you're running out of money, and you're not getting any responses from your resume blitz, and you're turning off the heat at night to save money on your energy bill? You're an American and you don't need no Government Money!
***
A week later, six envelopes arrived from the state's Department of Employment Services, with no indication of any order.
I figured I'd just open the top one first.
"GALA JONES: YOUR CHOICE TO HAVE FEDERAL AND INCOME TAXES WITHHELD HAS BEEN RECORDED AND FUTURE UNEMPLOYMENT CHECKS WILL BE REDUCED BY 15%..."
My eyes widened. So this is real. I'm collecting unemployment checks. I tore open the second envelope.
"DEAR CLAIMANT: ATTACHED IS YOUR FIRST WEEKLY CLAIM FORM," it read on the bottom, after a long list of checklists I needed to fill out to prove that I'd been job-hunting. "CAREFULLY FOLLOW THE COMPLETION INSTRUCTIONS THAT ARE CONTAINED IN THE CLAIMANT'S RIGHTS AND RESPONSIBILITIES PAMPHLET. FAILURE TO DO SO WIL CAUSE DELAY IN PROCESSING."
I set to work filling out the claim sheet, but realized by Question Three ("Did you receive severance pay during the week claimed?") that I should probably figure out how much I'd receive in benefits.
The third envelope was refreshingly in lower case letters ("GALA JONES: The Department of Employment Services would like to inform you of several new and exciting services that are available to you, through the Internet!"), but the fourth letter finally divulged how much of that sweet, free government money I'd be receiving.
"BENEFITS DENIED."
"Are you KIDDING?"
THEY ARE DENIED, the form would have screamed back at me if it could talk. YOUR CLAIM RAISES ELIGIBILITY AND DISQUALIFICATION ISSUES.
"Oh come on, I was a salaried worker in July—"
THE BASE PERIOD OF CLAIMS IS FROM 07/01/2010 TO 06/30/2011. YOU STARTED IN JULY. YOU DON'T GET ANY MONEY. GOOD DAY, MADAM.
"Are you serious? And why did it take about three forms to tell me that? And why do I have to file a claim form if I don't get any benefits?"
WHY ARE YOU TALKING TO A MONETARY DETERMINATION FORM?
Oh god, what the hell is wrong with me?
...YOU NEED TO FIND A JOB.
I knew that. I bitterly tore the last envelope oven. It was another copy of a claim form.
At least I'd filed for my benefits online: it saved me the embarrassment of going to an unemployment office, mumbling to a bored receptionist that I needed money, and then receiving a cruel rejection. Behind me there would be actual fathers and mothers who needed to feed their families, and desperate workers who'd been unemployed for more than 99 weeks, and even more cases of people in a far worse position than I was currently in. I'd have left, flushed with shame that I'd been asking for money from the government, taking it from someone else.
But I still kept getting notices from the Department asking me to file claims for weeks afterwards, as if they wanted to keep reminding me that I was jobless.
"Heeeeey, so we know that you don't have a job and that you're ineligible for unemployment checks, but can you keep telling us that you're looking for work anyways? Otherwise you're gonna get in trouble. Thanks!"
I may have sacrificed my Libertarian Dignity in filing for unemployment…but this experience has left me with the firm knowledge that at the very least, I still hate bureaucracies.