Jesus vs. Santa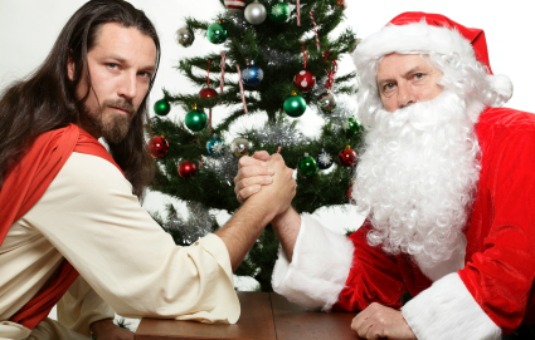 In my column for the National Post, I ask who is truly waging the War on Christmas:
We hear a lot about the war on Christmas. But the true seasonal struggle is the war within Christmas, a single holiday shared by two deeply antagonistic religions.

Religion 1 is the religion of Jesus Christ, the figure whose birth the holiday commemorates.

This religion emphasizes universal grace and forgiveness.

Religion 2 is the religion of Santa Claus, the holiday's most visible representative. Santa upholds a much sterner creed.

You better watch out

You better not cry

Better not pout

I'm telling you why

Santa Claus is coming to town

He's making a list

And checking it twice;

Gonna find out Who's naughty and nice

Santa Claus is coming to town

He sees you when you're sleeping

He knows when you're awake

He knows if you've been bad or good

So be good for goodness sake!

While Santa is checking his list twice for naughty children to be denied gifts, Jesus rebuked a disciple who asked if he really was expected to forgive an offending brother over and over again.
Click here to read the full column.