I Love the 90's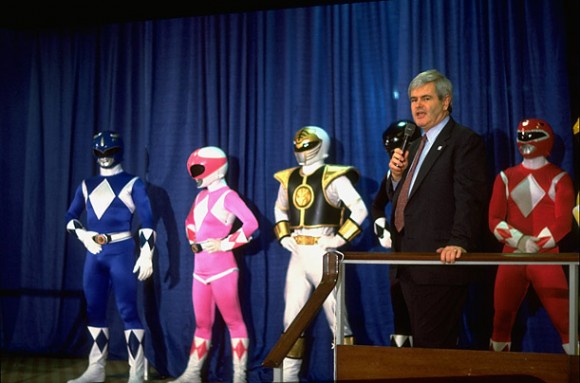 David Frum is concerned that a Newt Gingrich revival will bring back memories of the Clinton impeachment scandal, but what if the real danger is the return of one of the most popular children's action-adventure shows? I of course refer to the Mighty Morphin' Power Rangers.
I had heard stories about Gingrich's fascination with the 'teenagers with attitude' but photographic evidence seemed to be lacking. Now, thanks to the efforts of em>Time Magazine< and MSNBC the images can finally be seen.
Though twitter user Andy Kaczynski notes with great disappointment that, "The meeting of #Newt w/the Power Rangers was never put online in video form."
Thankfully, FrumForum alumnus Tim Mak was able to find some first hand accounts of how Gingrich viewed the Rangers:
In another surprise move, the entire world watched as the new Speaker of the U.S. House of Representatives, Newt Gingrich, shook hands with the Mighty Morphin Power Rangers who were invited to Washington, D.C., to entertain at the Speaker's opening day celebration. During the festivities, Gingrich remarked that he was like the Mighty Morphin Power Rangers. He said, "You ride the waves in America, and if something's hot, it's hot."